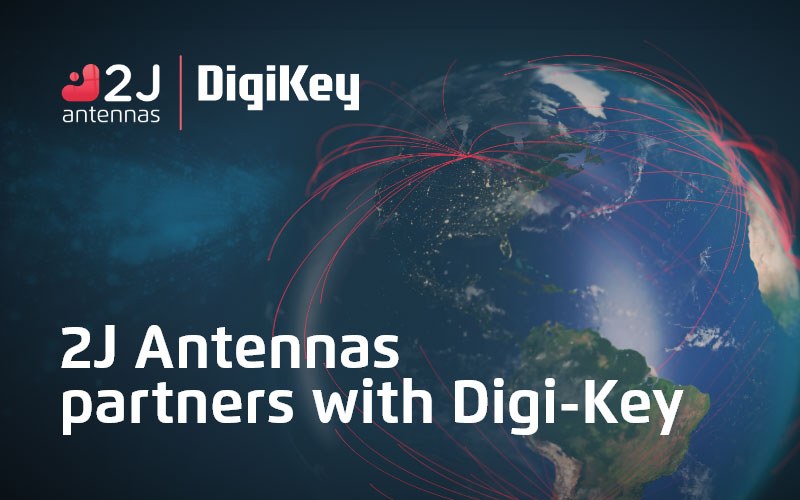 2J Antennas Now Available Online on Digi-Key in the United States
with Expedited Next-Day Delivery Option
We have great news for our customers and partners in the US! 2J Antennas has proudly partnered with Digi-Key Electronics to improve our product accessibility and customer experience in the United States. Digi-Key is one of the most reputable and trusted electronic component distributors worldwide, and we are thrilled to be part of their portfolio.
Our high-quality antennas are now available to purchase on their website. This strategic initiative provides a new purchasing option for companies in the US territory, making it easier and faster to access our antenna solutions.
Next Day Delivery

One of the most significant advantages of purchasing our antennas via Digi-Key is the ability to benefit from their impressive next-day delivery service. US-based customers can receive antennas the next day after their order. This not only eliminates waiting periods but also accelerates project timelines.
This partnership reflects our dedication to customer satisfaction and continuous improvement. Thank you for being a part of our journey, and here's to a brighter, more connected future!
About Digi-Key
DigiKey, headquartered in Thief River Falls, Minn., USA, is recognized as the global leader and continuous innovator in the cutting-edge commerce distribution of electronic components and automation products worldwide. DigiKey gets technical by providing more than 14.9 million components from over 2,400 quality name-brand manufacturers with an industry-leading breadth and depth of product in stock and available for immediate shipment. DigiKey also supports engineers, designers, builders and procurement professionals with a wealth of digital solutions, frictionless interactions and tools to make their jobs more efficient.
16/June/2023