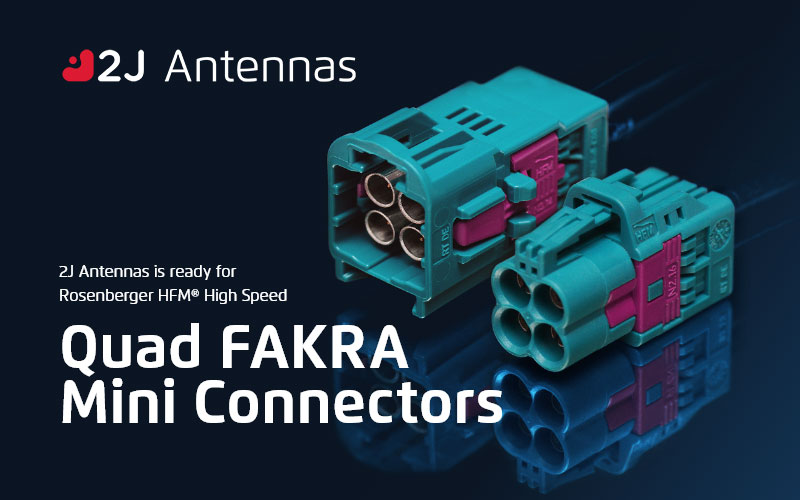 2J Antennas is ready for Rosenberger HFM® High Speed Quad FAKRA
ENSURING SAFETY WITH HIGH-SPEED DATA TRANSMISSION & EXTRA ROBUST CONNECTION FOR AUTOMOTIVE
At 2J Antennas, we are dedicated to integrating high-quality components into our antenna designs and engineering processes. Whether it's a specific module, cable, or connector, we prioritize features that guarantee exceptional performance.
Introducing Rosenberger HFM Quad High Speed FAKRA Mini Connectors, the ultimate game-changer in "Mini-Coax" connectors for the automotive industry. Rosenberger has earned global recognition as the leading manufacturer in its field.
With its unrivaled performance and ultra-compact footprint, this intelligent modular system is here to revolutionize how data travels in vehicles. At frequencies up to 20 GHz, they ensure lightning-fast transmission of high data rates, reaching up to an impressive 28 Gbps.
Rosenberger High Speed Quad FAKRA Mini Connectors are designed to meet the highest automotive standards and can be included with any antenna customization.
When it comes to travelling and connectivity, convenience is the key for all users while on the go. Today's wireless connectivity requires continued innovation to meet the growing demands for high-performance communications, smaller devices and easier installation requirements.
2J Antennas provides off the shelf and custom antenna solutions designed for the ground transportation connectivity, mobile critical communication and vehicle operability and services that require secure and reliable connectivity. Whether for a simple GNSS navigation solution, WIFI, FM/DAB radio or for a more complex in-vehicle 5G MIMO system securing uninterrupted and reliable data throughput of new-gen networks, 2J Antennas offers the right antenna for the right job.
Moreover, all can be equipped with Rosenberger HFM Quad High Speed FAKRA Mini Connectors now.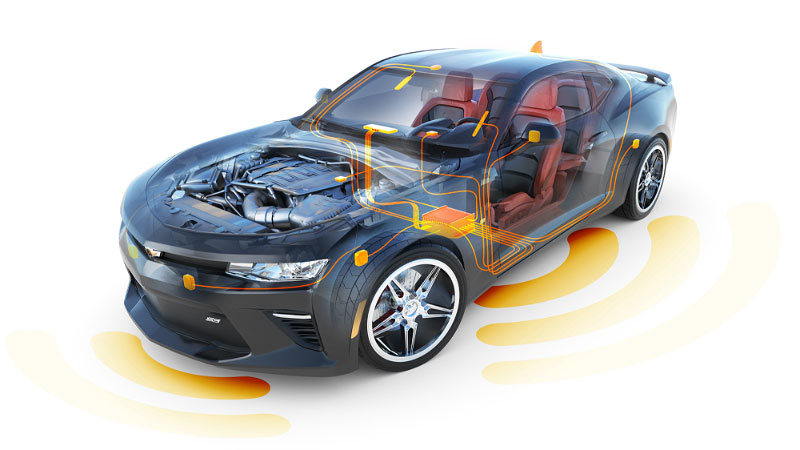 The Crucial Role of FAKRA Connectors in Enhancing Automotive Safety
When it comes to automotive applications, especially to autonomous driving and driver assistance systems, safety is paramount. These connectors are designed to provide 100% reliability thanks to their robust connections, resistance to vibration, and secure and effortless latch and click mechanism.
80% Space Saving. Because Size Matters
Delivering space savings of up to 80 % compared to traditional FAKRA connectors, the Rosenberger connector system allows various printed circuit boards (PCB) to be accommodated in the smallest possible footprint.
Suggested Automotive Applications
From determining precise positions to continuously calculating routes and detecting and classifying objects, they ensure that high data volumes from multiple cameras, sensors, and navigation sources are seamlessly combined and transported in real time.
•    Autonomous driving
•    Driver assistance systems
•    Navigation
•    Infotainment
•    Rear seat entertainment
•    Internet & mobile communication
•    and more
30/August/2023