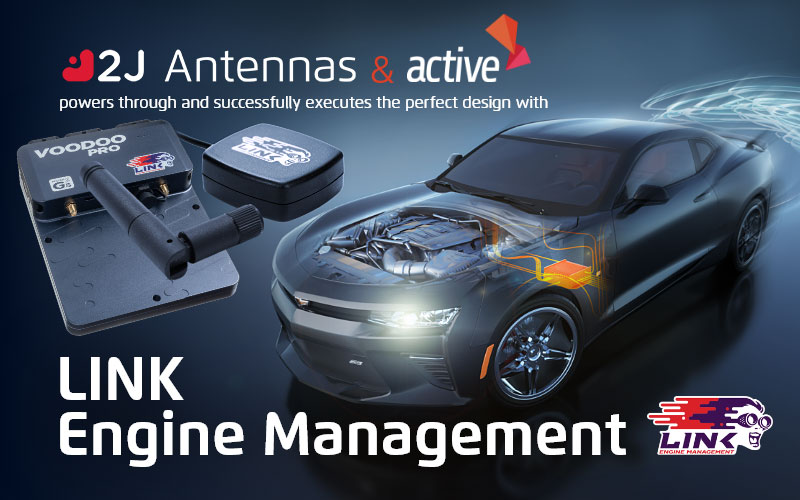 Something wicked is on its way!
2J Antennas & Active Components powers through and successfully executes the perfect design with Link Engine Management
As a supplier of antennas and RF cable assemblies, 2J Antennas are no strangers to the automotive industry. With motorsport and powersport in our DNA since 2002 there was no hesitation for 2J Antennas' New Zealand distributor, Active Components, to ask 2J Antennas for help selecting the best antennas for Link Engine Management's next generation ECU, the G5 Voodoo Pro. The G5 Voodoo is the latest series, following on from Link Engine Management's award winning G4X.
When Link Engine Management first contacted New Zealand based Active Components, a leader in supplying quality electronic components, for an antenna, it was clear Link Engine Management required a superior product, not just for performance, but for durability and appearance. They really do stand by their Limited Lifetime Warranty Guarantee!
The offering
For the GPS Antenna requirement, we quickly narrowed down the most suitable antenna for the G5 Voodoo Pro's requirements from 2J Antennas comprehensive portfolio. Link Engine Management opted for 2J Antennas, Tier 1, 2 & 3 favorite GPS/GLONASS/BeiDou/QZSS/Galileo antenna, 2J4D01MPCF.
The 2J4D01MPCF offers a28dB pre-filtered configuration with a robust IP67 enclosure which is stable, reliable, and has high accuracy across multi-constellations in a small form factor; critical requirement for any automotive installation.
To support the WIFI and Bluetooth connectivity of the G5 Voodoo Pro, Link Engine Management required an ultra-miniature antenna with an enhanced 90° swivel for those harsh automotive environments. 2J Antennas' highly sought-after 2JW1302-C442B terminal mount antenna, a recent development, fulfills all necessary requirements with precision.
Branding
With branding being an integral part of product identity, would it really be a Link Engine Management solution without their image taking focal point?
2J Antennas have provided distinctive branded products into the Wireless Industry for over two decades.
Active Components put forward this unique offer to Link Engine Management and of course Link Engine Management agreed without hesitation. This led us to print the most exhilarating logo to date, and we love it!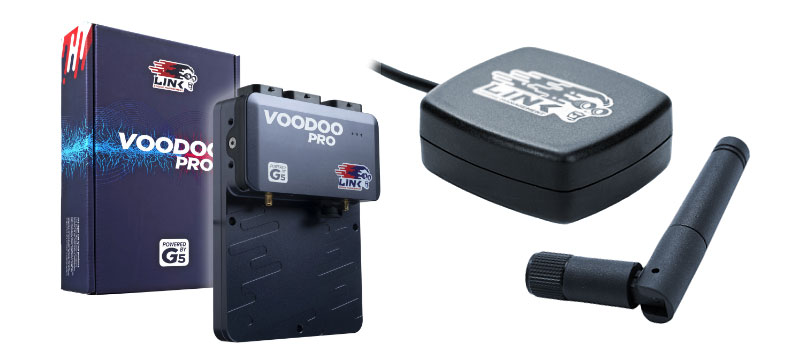 Success
With the support from LINK Engine Management, Active Components and 2J Antennas - the integration has been a smooth and successful design win for the G5 Voodoo Pro, and with many more products in the pipeline this will not be the last win for all involved.
Article information:
Active Components: https://www.activecomponents.com/
LINK Engine Management: https://linkecu.com/
2J Antennas: https://www.2j-antennas.com/
GNSS Antenna: https://www.2j-antennas.com/antennas/single-external-antennas/2j4d01mpcf-gps-glonass-beidou-qzssgalileo-adhesive-magnetic-mount-antenna/320
WIFI Antenna: https://www.2j-antennas.com/antennas/single-external-antennas/2jw1302-c442b-2-4-5-0-ghz-ism-ultrawideband-antenna/16
G5 VOODOO Pro: https://dealers.linkecu.com/G5-Voodoo-Pro
08/November/2023